BAGGAGE INFO
Carry-on Baggage
Size:
For SmartLynx Airlines flights, the maximum size for carry-on baggage is 55x45x25 cm.
Weight:
The maximum weight of carry-on baggage might vary, depending on your destination. Please contact your Tour Operator to get more information about baggage allowance.
Restrictions:
For security reasons, some objects may not be packed in carry-on baggage, such as:
Knives
Scissors
Corkscrews
Needles
Tongs
Golf clubs or ice skates
It should be noted that the restrictions may differ on some routes.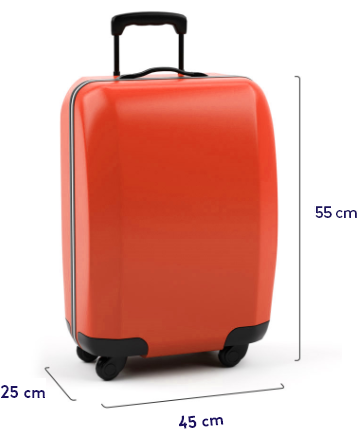 Check-in Baggage
Each passenger can check in up to five additional pieces of baggage, but this may vary by the destination country. Please, contact your tour operator to determine the maximum number of additional pieces of luggage allowed.
Weight:
The maximum weight of check-in baggage might vary depending on your destination. If traveling with an infant, one piece of checked baggage of up to 10 kg is free of charge. Please, contact your Tour Operator to get more information about baggage allowance.
Exceptions:
Exceptions apply to special baggage – sports equipment, musical instruments, animals, and passengers in wheelchairs. In the case of special luggage, the space must be reserved in advance. It should be noted that the conditions depend on the country of destination.
extra luggage
Sports Equipment
Sports equipment is considered special baggage subject to certain conditions and restrictions. When making a travel reservation, the passenger must inform SmartLynx Airlines and/or the tour operator of the special baggage items so that we can anticipate additional space in the aircraft cargo hold. After registering the sports equipment, the passenger will receive a confirmation that the specific piece of luggage is allowed to be transported and that it has a place on the plane.
More information on sports equipment items are available here.
make a reservation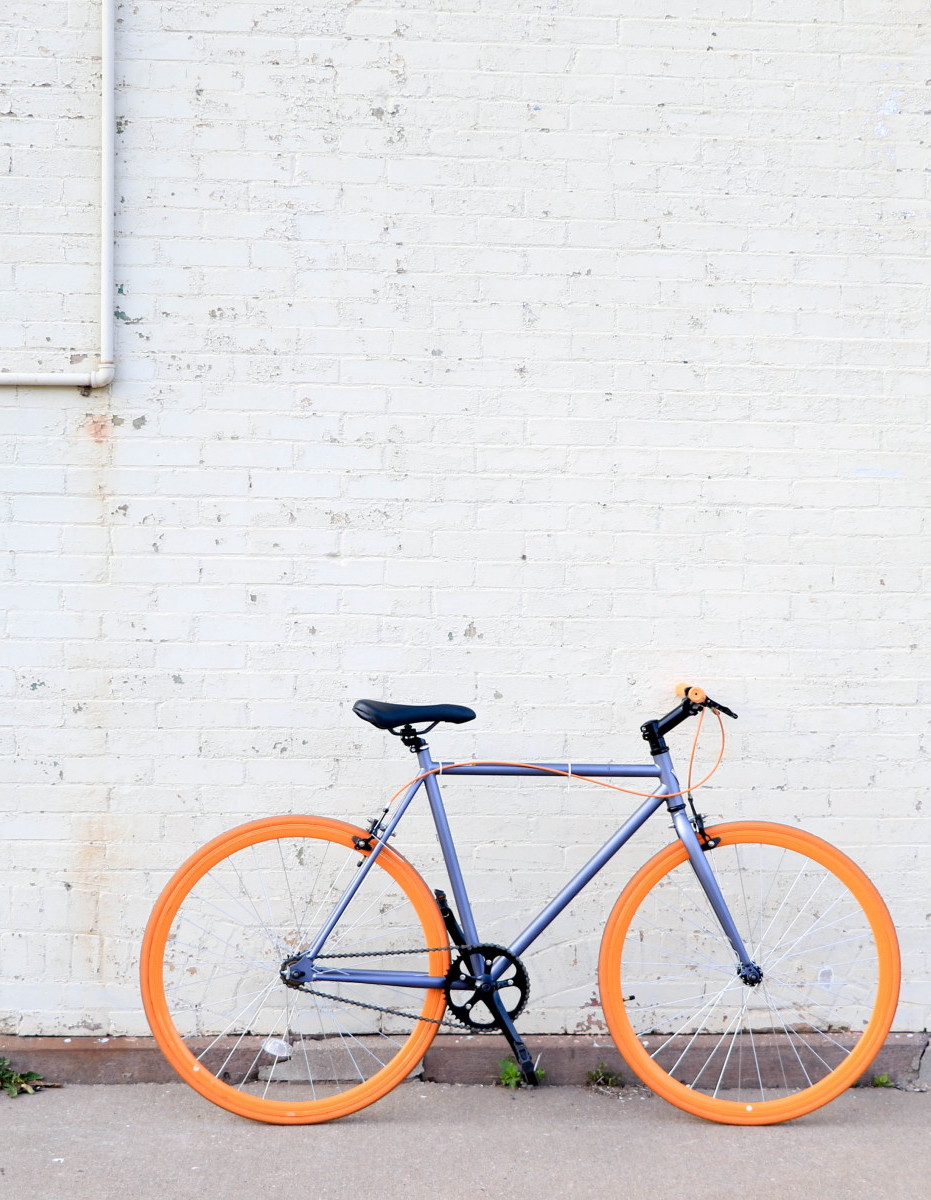 Pack the following items into check-in baggage or leave them at home. These items are not allowed in the cabin of an aircraft:
For security reasons, some items are not allowed in the cabin. The following items must be placed in checked baggage or left at home:
Firearms: any item that can be used to fire a shot (whether by explosion, pressure or gas), including start and light guns;
Knives and cutters: scissors, razors, sables, swords, paper cutters, hunting knives, souvenir knives, combat equipment, tools;
Items usable as mauls such as sticks, flashlights (over 30 cm in length), large sports equipment such as baseball clubs, golf clubs and hockey sticks;
Items and substances that may be used to disable a person, all items that can be used to disable a person using electric shock;
Other items such as ice skates, ice awls, ski poles, knitting needles, handcuffs, fishing equipment, toy guns/grenades or replicas thereof;
All objects that may be used to imitate a lethal weapon, such as bomb- or gun-shaped objects or otherwise dangerous-looking items.
It is prohibited to carry bottles and containers that have markings for poisonous, toxic or easily flammable contents on them.
It is prohibited to carry the following substances and objects on the plane:
For safety reasons, the substances and items listed below may not be carried in both carry-on baggage and check-in baggage. Before your planned trip, make sure nothing from this list is in your carry-on or checked baggage:
Liquid, pressurized, flammable or poisonous gases such as butane containers for trekking cookers, oxygen and air tanks for divers, acetylene, liquid nitrogen, ammonium, chlorine;
Flammable liquids and solids such as paints, thinners, gasoline, diesel, celluloid, phosphorus, calcium carbide, and sodium;
Explosives, ammunition, fireworks and flares;
Corrosive substances such as battery acid, sulphuric acid, sodium hydroxide, mercury;
Oxidizing substances such as bleach, chemical oxygen generators, ammonium nitrate fertilizers, calcium chlorate;
Poisons and infectious substances such as arsenic, nicotine, pesticides, bacteria, and viruses;
Radioactive materials such as sources of radiation used for industrial and medical purposes, cobalt-60, cesium-13;
Other dangerous substances such as asbestos, dry ice, strong magnets, fuel-burning engines, and environmental toxins.
Note! Some substances and materials rated dangerous may be transported. For example, matches or a lighter may be carried in a pocket inside the cabin.
Important information
You must never carry anything on the flight on behalf of someone else. If you think an item has been placed in your baggage without your knowledge, you must check your bag before arriving at the airport or tell the check-in agent immediately if you are already at the airport.
Before you continue with check-in, it is necessary to make sure that:
No one has interfered with your baggage since you packed it
No one has given anything unknown to you to take on board your flight
You did not pack any sharp or dangerous items in your hand and/or checked baggage.
Baggage handling and Responsibility for Damages
The primary task of baggage is to protect its contents from damage. Baggage processing at the airport involves rapid physical handling, which causes normal wear and tears.
SmartLynx Airlines is not responsible for minor damage to checked baggage, which does not render the baggage unusable. The airline's responsibility for damage that happens to checked baggage is internationally limited accordingly to Regulation (EC) No 889/2002 of the European Parliament and of the Council of 13 May 2002 amending Council Regulation (EC) No 2027/97 on air carrier liability in the event of accidents.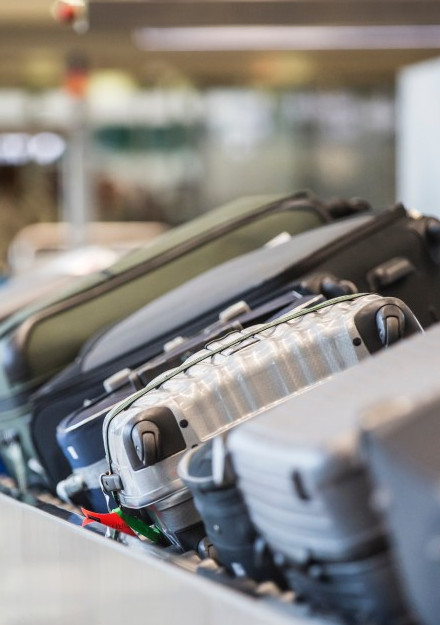 Airline is not responsible for:
Items that protrude from baggage such as wheels, baggage feet and handles;
Loss or breakage of external locks, zips, pull straps or security straps;
Items of a fragile (musical and sporting equipment) or perishable nature;
Child's pushchair/buggy, safety seat, pram;
Designer bags;
Baggage containing valuable items;
Baggage accepted after the check-in closure time;
Manufacturer's defects
Note! SmartLynx Airlines encourages passengers to purchase travel insurance with baggage insurance included so that all personal belongings are insured for their full value.
What to do if the luggage is delayed, damaged, or lost?
Delayed baggage
If your baggage has been delayed, please go to the airport's lost baggage office immediately and report the delayed baggage item. Most delayed bags are found and returned to the owner within a short period. When the baggage is found, the airline will notify the passenger to arrange the delivery of the baggage.
If your luggage has been delayed while you are outside your home country, we offer you the opportunity to purchase the necessities (e.g., hygiene products), for which we will then return the money spent. Please note that refunds are only possible if all purchase receipts are kept.
To recover the money paid for the purchased goods, submit the saved receipts here. Requests for refunds must be submitted within 21 days of claiming the baggage.
Damaged baggage
If the luggage has been damaged during the flight, it is necessary to immediately go to the lost property office of the airport to fill out and receive a damage report. Damaged baggage must be reported to the airline within 7 days of the flight, starting the day after the flight, using the claim form here.
SmartLynx Airlines partners will repair or exchange damaged baggage free of charge. Please note that when you go to repair your bag, you must take the filled form to the airport with you.
Lost baggage
Baggage is considered lost if it has not been found within 21 days of the flight. In such cases, we encourage you to submit a lost baggage claim using the SmartLynx Airlines claim form here.
Inform us
Help us make your travel experience even better. Please leave your feedback.
FEEDBACK
Claims
If you are not completely satisfied with your flight, please send us your claim.
CLAIMS