TRAINING CENTRE
Type Rating for Airbus A320 at SMARTLYNX TRAINING CENTRE An opportunity to develop your career in one of the bestselling and most common aircraft in the world.
About Training Centre
20 active and experienced pilots as instructors in our Training Centre
17 000 average flight hours of the instructors
60-70 new students each year from all over the world
About Training Centre
SmartLynx Training Centre is one of the most recognized approved training organization (ATO) in the Baltic States, that offers airline pilot training by providing type rating courses for Airbus A320 series. It is a well-known training centre, acknowledged by aviation professionals worldwide.
SmartLynx Training Centre offers the most comprehensive, applied ground training available today.
SmartLynx Training Centre welcomes 60-70 students each year from all over the world. Majority of graduates get the opportunity to build a pilot carrier with SmartLynx Airlines..
A320 Type Rating Course Content
Ground Course
Includes:
Computer Based Training (CBT) with instructor
System review
Procedures
Performance
Weight and Balance
Tests
Duration:
9 days in virtual classroom followed by 1 day testing in classroom
Cockpit System Simulator with FTD
Includes:
ECAM trainer
FMGS trainer
Cockpit trainer
Normal and abnormal operations
Task sharing
Full Flight Simulator (FFS)
Briefing/Debriefing
Duration
10 sessions / 40 hours
Skill Test
FFS
Duration
1 session / 5 hours
A320 Base Training
6 Touch and Go + 1 Full stop
GET OFFER
Pre-requirements
Valid multi-engine Instrumental Rating (A)
ATPL(A) or CPL(A) and theoretical knowledge equal to requirements for the issue of ATPL(A)
Advanced UPRT certificate
ICAO level 4 knowledge of English language*
*The English language level has to be in pilot license or additional certificate of English proficiency level issued by authority where pilot passed the examination or by authority issued pilot license.
70 hours as pilot-in-command of airplanes
Class 1 medical certificate
Hold a certificate of satisfactory completion of MCC course if applying for the issue of the first type rating for the multi-pilot airplane type
*The English language level has to be in pilot license or additional certificate of English proficiency level issued by authority where pilot passed the examination or by authority issued pilot license.
Graduates About Us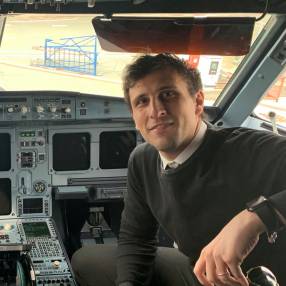 I always wished to be a pilot, since I was 5. I was fashioned from those giants flying into the sky. Since I can remember I walk with my nose up towards the sky, looking for some aircraft, dreaming to be a First Officer or a Captain.

In 2017 I started flight school and after two years got my CPL license flying on dv20, 40,42 and Cessna 152. At the beginning of 2020, I tried to join the SmartLynx programme for the first type rating of my career, then unfortunately we got COVID 19. In 2021 Smartlynx contacted me back. My performance was satisfactory and I passed the selection process.

March 2021 is when my A320 Type Rating started.

Smartlynx gave me the opportunity to join the airlines' world. I find the environment extremely professional and prepared.  Special thanks go to my Simulator Instructor, Igors Palicevs,  who leads me to the type rating certification.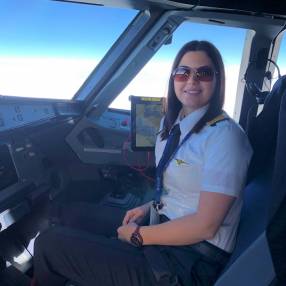 Less than a year ago, after completing the ATPL Integrated, I immediately started searching for a First Officer position and a company which will help me gather experience and knowledge about working in a major airline and aviation industry.

I completed the Airbus A320 Type Rating at SmartLynx Training Centre in November 2019.

During the course every student needs to be prepared, both mentally and physically. It is challenging, intense, exciting, demanding and it requires studying in advance. A good example is learning the checklist, flows and memory items as a starter. Get to know the airplane, its performance and its systems. Any head start you can get will help you once you're at the center. Thanks to the SmartLynx Training Department, we were provided with some training materials, which helped us later on during the course.

The instructors did an exceptional job, which gave me an opportunity to enhance my skills, both professionally and personally, particularly when it comes to multi-tasking, prioritisation and constant sharpening of skills. They conducted the class and every simulator session in a very professional manner, providing us with some relevant, real life examples.

Smartlynx is a company that will encourage you and support you throughout your entire career.

Today, I'm grateful to be part of the Smart Team and work as First Officer for Europe's leading ACMI.

I get up every day and I fly, which I love! What could possibly be better than that?



VIEW ALL