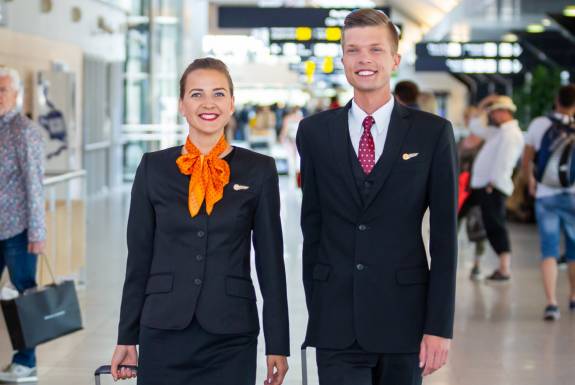 Experienced Cabin Crew Member (native/fluent German speaker)
SmartLynx Airlines is a leading ACMI and charter provider operating A320 and A321 aircraft. In 2020 we have expanded our service portfolio with plans to further establish our position in the world of air cargo transportation.
If you are a cheerful and optimistic person and ready to dedicate yourself to the new awakening of passenger aviation, please fill in the application adding all the requested documents including a 2-minute video in German language telling us why would you be a good fit for this position.
Successful candidates will receive an invitation email with options for interview dates. The online interview will be conducted in English. During the interview time, your communication skills in German may be tested.
Further information about terms and conditions will be shared during interviews.
You have:
Graduation from high school or equivalent education
Valid EU Cabin Crew Attestation.
Valid passport without restrictions to travel
Clean Criminal Record
Medically fit to meet aircrew requirements
Excellent English language skill: min ICAO level 3 or equivalent
Native/fluent German speaker
French language knowledge is an advantage. Any other additional languages are desirable
Able to swim a minimum of 25 meters without any assistance
Immaculate appearance: no visible tattoos and/or body piercings that cannot be covered discreetly
Minimum height 158 cm
Minimum age 21
People management skills coupled with strong communication and adaption skills
Caring and service-oriented attitude toward employees and clients
Mature personality and ability to solve complicated situations both in the team and with passengers
Punctuality and flexibility
Availability to take long trips and relocate
Ability to work in a multicultural environment
Have high resistance to stress and can work irregular hours
Immediate availability to join the training from 1st of May and readiness to relocate
Main duties:
Be responsible for ensuring that operations are conducted in accordance with applicable regulations and standards of SmartLynx;
Be responsible to the Commander for the conduct and coordination of cabin safety, security, and emergency procedures;
Attend pre-flight briefing according to set reporting times;
Carry out pre-flight duties, including checking the safety equipment, ensuring the aircraft is clean and tidy, ensuring that information in the seat pockets is up to date and that all meals and stock are on board;
Conduct and coordinate normal and emergency cabin procedures;
Report to Commander any fault, failure, malfunction, or defect which he believes may affect the airworthiness or safe operation of the aircraft, including emergency systems;
Communicate on good and polite manner basis with all crew on board;
Follow strictly SCCM's and Commanders directions;
Do the basic cabin cleaning out of base stations if local Cleaning services are not provided;
Follow best practices regarding appearance before and during the flights according to company standards
Attend all trainings and meetings organized by the company;
Familiarize oneself with the company's regulations, documents, their changes, and updates;
Follow the discipline issues (late reporting time, rude attitude toward colleagues and/ or passengers, harassment issue, theft, and fraud) in the team during the flight
Do the service and onboard sales according to the high service standards of the company or client
Be SL ambassador and representative in the base and in outstation
Treat all our guests and colleagues equally and with great respect
We offer:
Base in Europe
Supported accommodation
Exciting and ever-changing cabin crew life
Colleagues from all over the world
Life outside of your comfort zone
To be part of the new post-crisis aviation area