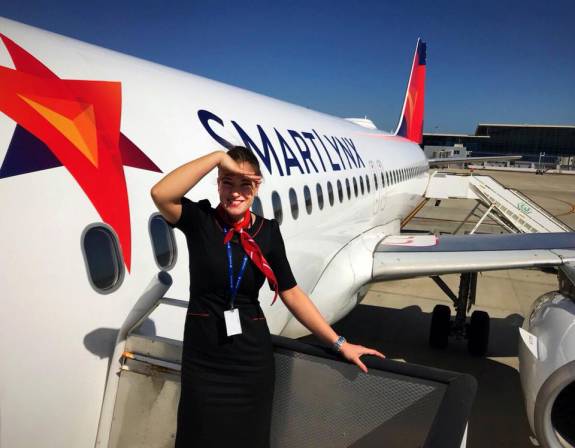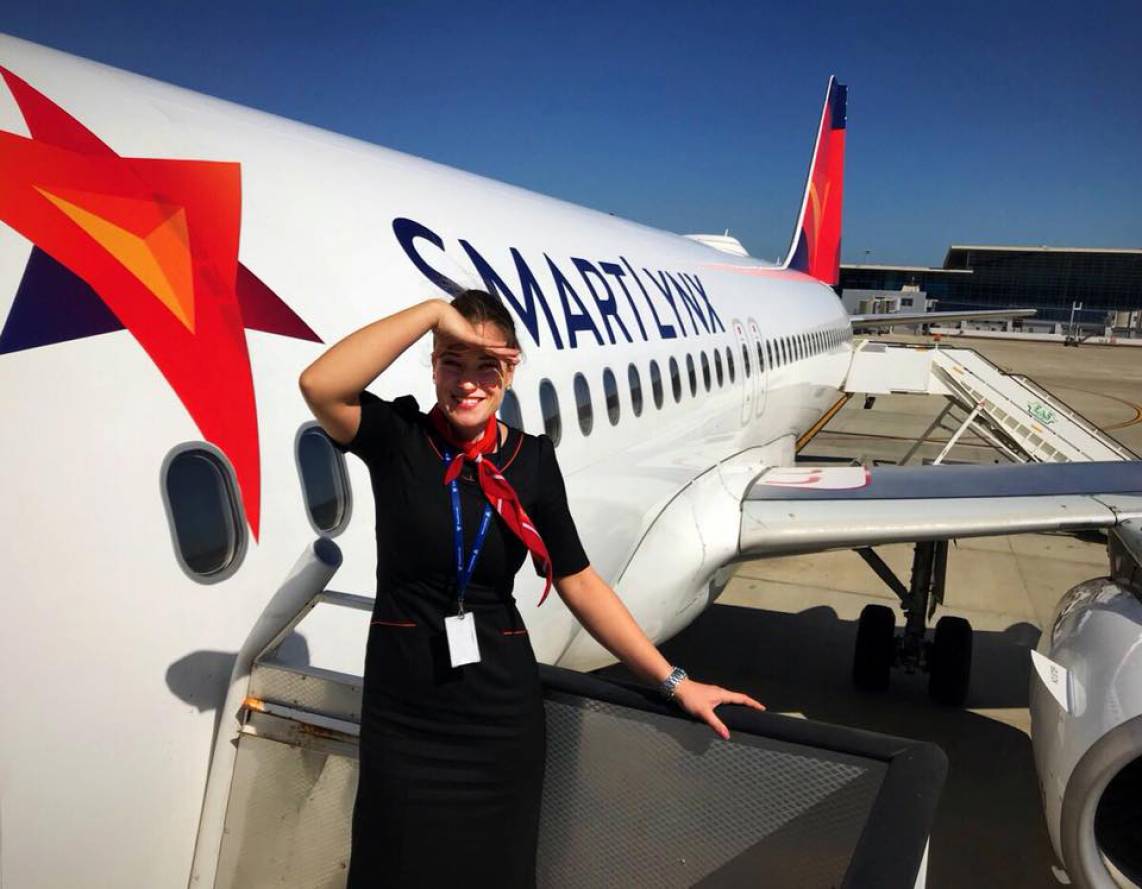 What does it take to become a Cabin Crew Instructor?
10.12.2020
Cabin crew are the face of the company, pride of every airline. They are reliable professionals with passenger's safety and comfort as an imperative in performing their duties. Even though it means hard work and dedication, for many this profession is a lifestyle they have been dreaming of since a young age.
SmartLynx Cabin Crew Training Manager, Irina Udrea, is no exemption.
She was fascinated with flying from a young age, she had worked in several other industries around the world, and back in 2007, she decided to follow her dream and join the world of aviation.
Halfway through her aviation career, she started looking into becoming an instructor, mainly due to the high respect and admiration she always had for those who coached her and ensured that the learning experience was supported with excellent practical skills.
With a lot of determination, and after years of accumulated experience she became a Cabin Crew Instructor and is now the head of Cabin Crew Training Department in SmartLynx.
Being an Instructor for Irina is like "doing magic".
"That's exactly how it feels to be an Instructor. You meet some new joiners with no experience whatsoever and within a matter of days spent together in the classroom, they manage to pass difficult aviation exams and have a clear understanding of what the vast cabin crew role implies. You go home after the course feeling accomplished and happy that you've fulfilled your role the best way possible and feeling very proud of your trainees and their results.
And then there are those moments when you get to share your onboard experiences with the class and they all listen fascinated dreaming of creating their own beautiful moments in the future."
What is the role of a Cabin Crew Instructor?
Apart from being a mentor and a role model, an Instructor role is to promote safety, to oversee the design, development and maintenance of training materials, conduct both practical and classroom training sessions including but not limited to: Aviation Security, Dangerous Goods, Fire & Smoke, Emergency and Safety Equipment, First Aid, etc. and to facilitate non-technical skills training (CRM) according to regulatory requirements.
What are the basic requirements for someone to become Cabin Crew Instructor?
To begin with, one has to believe in himself and his capabilities, to be confident, patient, approachable and most importantly, passionate about aviation.
From the technical point of view, it takes a minimum of 3 years of experience as a cabin crew or 2 years in a leadership position together with secondary education or higher and good English communication skills to qualify.
How does one get to the position of a Cabin Crew Instructor?
Cabin crew instructors have to be fully qualified and certified on all topics which they are looking to deliver.
To begin with, interested candidates will have to undergo a comprehensive Initial Train the Trainer course which provides new trainers with all necessary skills to develop and deliver effective training sessions. This certification will need a renewal on a triennial basis (every three years) in the form of a Refresher Train the Trainer course.
Can an Instructor focus further and advance in a specific training field?
Absolutely, the sky is the limit!
Currently, we started advertising several Instructor courses here at SmartLynx, conducted by highly qualified and professional instructors which are also active crew members therefore able to understand participants needs from all points of view.
Whether one chooses to become qualified on all specialties related to cabin crew training or any of them in particular, it's entirely up to them, we would recommend all available courses as airlines cabin crew training generally requires flexibility from instructors and being qualified on multiple various fields is preferred versus unique qualifications.
We are prepared to deliver customized individual courses on any of the below cabin crew training fields or we can offer all as a package:
CRMI - which enables participants to facilitate CRM sessions for cabin crew;
ESET - which enables participants to teach aircraft safety and to conduct practical drills in training centers (e.g. ditching);
PRMI - which enables participants to teach regulations and limitations for the transportation of persons with disabilities by air.
More courses will be available in the near future.
Irina is certain that she found her true vocation by becoming a Cabin Crew Instructor.
"Aviation, in general, offered me many special moments. I'm not saying that it was necessarily easy, but by the end of the day, when you come to the conclusion that through your deeds and decisions you've managed to positively influence the lives of others, personal satisfaction reaches its maximum."