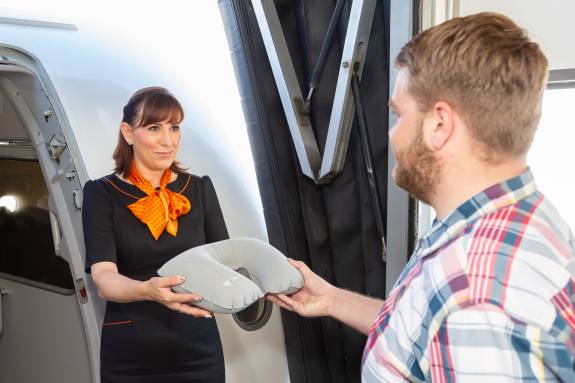 Surprise for passengers on flight from Tallinn
23.07.2019
The renewal of the direct flights between Tallinn and Batumi, marked the launch of our new "Welcome on Board" campaign. During campaign all passengers flying from Tallinn to Batumi by SmartLynx are given various complimentary gifts.
"With this activity we want to show that apart from our main attention on safety SmartLynx focuses also on experience passengers get while using our services," emphasizes Zygimantas Surintas, CEO of SmartLynx Airlines.
Tallinn - Batumi this month has been chosen as the lucky destination as two cities are connected directly after decades. To celebrate this big event together with passengers, all of those who took the flight by SmartLynx on July 18th, received branded travel pillows that made the flight even more pleasant and enjoyable.
As our CEO ,Zygimantas Surintas, notes SmartLynx has always been in favor of building positive relationships and company is committed to continue this type of activities also in other flights in the following months.
"It is clear that travel experience today is not just about the destination you are travelling to. It is the whole adventure including road to airport and everything experienced during flight. Being aware that we are part of this adventure, it is our goal to constantly improve our inflight services and to make all journeys unforgettable and in line with travelers' expectations," points out Zygimantas Surintas.