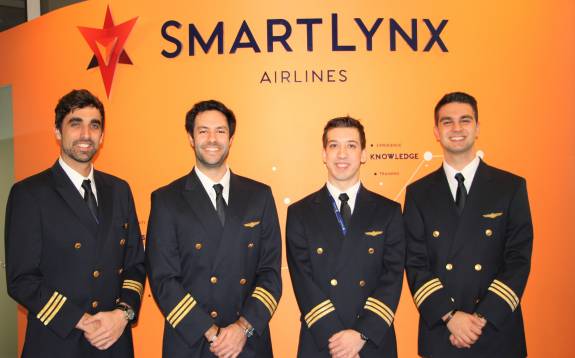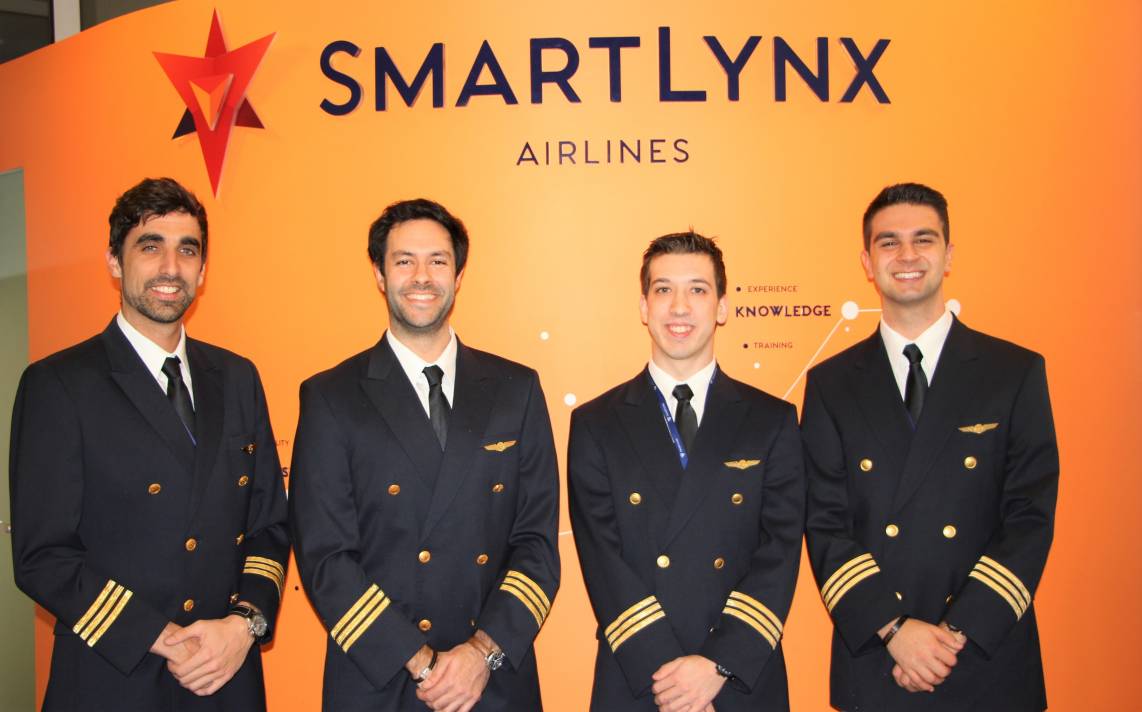 Latest reinforcement to our flight crew team
07.05.2019
SmartLynx Airlines Cadet Program with our partner, BAA Training Aviation Academy, continues to prove itself as the right choice for flying enthusiast. The program is a perfect fit for people with no previous flying experience, and as Leo says, attracted to a different kind of aviation business. According to our new First Officers Leo Neuzeret, Mario Castro Quiles, Yohann Pierre Carboue and Morris Gürel. the character of ACMI operations, and the lifestyle that goes with it, was the main reason they have chosen SmartLynx Airlines to grow their career in.
Completing an Integrated Airline Transport Pilot License (ATPL) training course and Type rating course is a demanding process, that takes a lot of hard work and determination. But, when being in aviation is your childhood dream, all the challenges are overcome easily.
Coming from different backgrounds, young pilots had different drive leading them to their life goal achievement.
Leo realized he wanted to become a pilot in his teenage years while traveling. He got interested in aviation and made the right scholar choices that lead him to left seat in A320 cockpit. "My training at the SmartLynx ATO was really smooth. The ground course was thorough and demanding, but our instructor was always there to help us understand every technical aspect. The simulator training was really immersive and quite the challenge, but here again, I can only say that our instructors did a fantastic job for us to discover and understand the procedures."
Mario stepped into the world of aviation at a more mature age, working as an architect for several years prior. After carefully evaluating the company's commitment and business prospects, Mario knew that his future in aviation is with SmartLynx.
As his colleague, Yohann had previous work experience but stayed within the industry. Being in air transport management, he evaluates the training as well organized, with professional instructors and modern simulator.
All of our new flight team members did their research and chose the Cadet programme that combines several advantages, as Morris says. "Not only do you have a secured job with SmartLynx Airlines, but you also gain a lot of experience thanks to the interesting and challenging part of ACMI business." And is adding "Although the training is demanding, we had very helpful and knowledgeable instructors who supported us and shared their experience throughout our entire course. The simulator sessions require focused hard work, but there is nothing more satisfying than a smooth session after thorough preparation."
Cadet Program is a great opportunity for individuals with no previous flying experience. The current opportunity not only allows to get a Commercial Pilot Licence but also provides you with a letter of undertaking.
Do you see yourself in the First Officer seat in the cockpit of the Airbus A320 aircraft? Get more information here.