ABOUT SMARTLYNX
SmartLynx Airlines specializes in full-service ACMI aircraft lease services. It is a notable charter and ACMI operator in the European Union, providing its services on Airbus A320 aircraft.
About Us
SmartLynx Airlines specializes in full-service ACMI aircraft lease services and is acknowledged ACMI provider in EU on Airbus A320 aircraft.
We ensure full charter operation in our home markets – Latvia and Estonia, predominantly in the leisure market. SmartLynx also performs flight crew training – SmartLynx Training Centre is a respected and approved airline pilot training company in the Baltic States providing type rating courses for Airbus A320 series.
We are an EU based airline, with headquarters in Riga, Latvia and two subsidiaries in Estonia and Malta.
SmartLynx Airlines is a family member of Avia Solutions Group, the largest aerospace business group from Central & Eastern Europe with 83 offices and production stations providing aviation services and solutions worldwide.
Avia Solutions Group unites a team of more than 7000 professionals, providing state-of-the-art solutions to aviation industry and beyond.
HISTORY
Our Values
TRUSTWRTHINESS
No matter the obstacles, we always remember to keep our promise towards clients and colleagues, believing that being reliable is the best decision for a long-term relationship – both personal and business. We conduct ourselves with uncompromising reliability and honesty as individuals, as teams, and as a company.
ADAPTABILITY
We are adaptable, flexible and responsive. Responding resourcefully to our clients ever-changing needs is a core to our success. We make business decisions that demonstrate adaptability, creativity, urgency and courage, while highlighting our ability to stay aligned to the highest safety and security standards.
INTERDEPENDENCE
We believe that it is a constant cooperation that creates synergy and that helps us to achieve our goals much better and faster. Giving due respect to ourselves and others and maintaining the environment of teamwork and growth, helps us to form better relationships.
KNOWLEDGE
We provide our clients with great experience and knowledge, while being professional and constantly improving our services. Fast decision making often is a key in our daily routine, yet ours is thoroughly based on our know-how, while striving to be the best at what we do.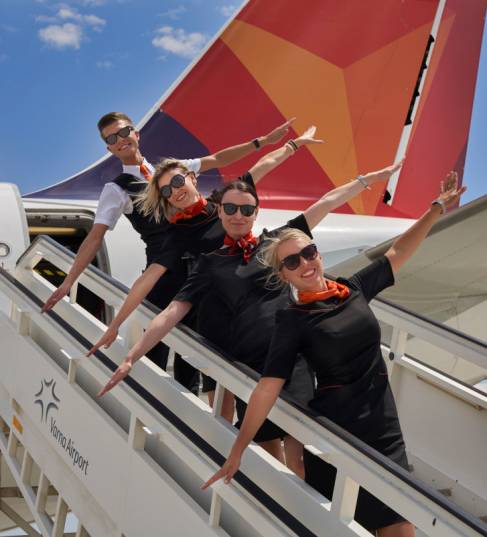 Smart Team
SmartLynx, as an employer, provides the opportunity for its employees to make a contribution. We value energetic team members, those willing to take on challenges both large and small.
CAREERS